TEXT – Pet Food
We stock pet food from Arden Grange and Natures Harvest (Judge's Choice), which can be purchased during our standard opening hours.
If you are travelling a distance, please call us on 01788 510111 to make sure that we have the particular product you want in stock.


FULL GROOMING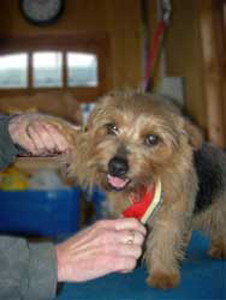 As well as our Mini Spa service, we offer a full dog grooming service including hand stripping if required.
Prices depend upon the size of your dog, the type of coat and if you want hand stripping.
Please call us on 01788 510111 for an individual quote.
DELIVERY or COLLECTION
In special circumstances, we may be able to arrange for the delivery and/or collection of your pet for a stay at Collaton Kennels.
Please e-mail us giving details of the special circumstances, your pet and the dates/times so that we can provide a quotation for the transport costs.